REY PILA!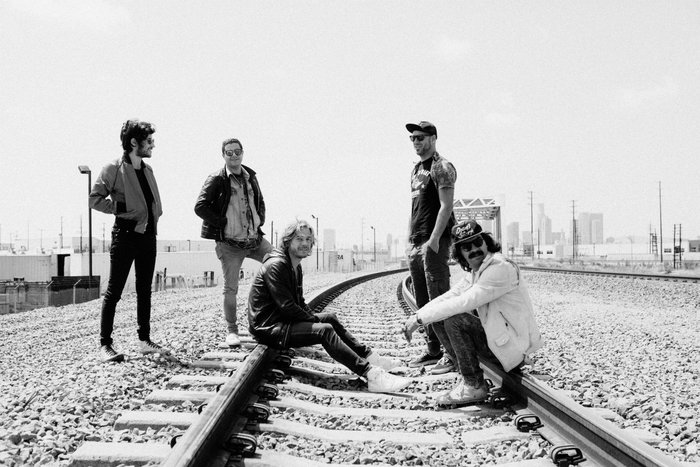 THE FUTURE SUGAR, THEIR NEW ALBUM!
In another life, Rey Pila are a band you would most likely hear sound tracking a cool B-movie, or, in a club you think you are too un-cool to attend, or appear amongst a collection of random albums picked by your hip and eccentric mate at a BBQ thus causing hysteria as to why these guys have not yet conquered the world? The good news it does not have to be that way.
Signed to Julian Casablancas' 'Cult records' ' Pila excitedly released their second album 'The future sugar' in September and are eager to share their music with all humans keen to hear intelligent rock and roll and share something of themselves with something of you.
Before you ask yourself what 'future sugar' tastes like I can safely assure you that the album is filled with sweet melodies, crystalline beats, and abstract poetry you can sprinkle into your life as it will certainly be the cup of tea of any fan who digs classic sounds from iconic glitterati, such as Roxy music, David Bowie, The Ramones; ingredients of a band who are confident in where they are taking rock and roll.
I was fortunate to have my questions answered by Rey Pila' multi talented frontman, Diego Solorzano and here is what went down….
En otra vida, Rey Pila es una banda que escucharías como lado B de un soundtrack de una película , o en un club que tu crees que eres demasiado poco cool para asistir, o una banda que aparecería entre una colección de álbumes escogidos al azar en una BBQ por tu compañero excéntrico y hip, provocando  histeria de por qué estos chicos aún no han conquistado el mundo. La buena noticia es que no tiene que ser de esa manera.
Luego de firmar con  Julian Casablancas »Cult Records», Rey Pila ha lanzado con entusiasmo su segundo álbum 'The Future Sugar' en septiembre y están dispuestos a compartir su música con todos los seres humanos deseosos de escuchar rock inteligente  y compartir algo de sí mismos con algo de ti.
Antes de que te preguntes qué sabor tiene el «azúcar del futuro», yo te puedo asegurar con certeza que el álbum está lleno de dulces melodías, ritmos cristalinos, y  poesía abstracta que podés espolvorear en tu vida, ya que sin duda será la taza de té de cualquier fan que le gusten los sonidos clásicos de celebridades icónicas, como Roxy Music, David Bowie, The Ramones; ingredientes de una banda que tienen confianza de hacia dónde  están llevando al rock and roll.
Tuve la suerte de que el multi talentoso vocalista de Rey Pila, Diego Solórzano, contestara mis preguntas, y ésto lo que pasó ….
My initial impression of you all performing was when you were supporting Albert Hammond Jr on his winter 2013 U.K tour, in Leeds and witnessing Diego exit the stage and interact with the crowd. I was very impressed as to how you guys were able to 'warm' the crowd up and bring attention to your music quite dramatically, leaving everyone talking about what they had just witnessed.
How have you developed your performance aspect of being musicians, in becoming a successful 'live' act? Do you guys have any performance related backgrounds outside of music?
We've been playing together for a while now, playing the same songs since 2012, that has helped us develop as  a band,especially live. We like to think that we have a some what of a punk vibe when we play live, we like to play loud and fast. 
The only performance background we've had is playing live. We've all played in different bands in Mexico before Rey Pila.
Mi impresión inicial de ustedes fue cuando estaban tocando con  Albert Hammond Jr en su gira del 2013 por Reino Unido, en Leeds y ser testigo de la salida de Diego el escenario y su interacción con el público. Me quedé muy impresionado de cómo fueron capaces de calentar la multitud y atraer la atención a su música de manera espectacular, dejando a todos a hablando de lo que acababan de presenciar.
¿Cómo  han desarrollado su performance para tener un show en vivo que sea exitoso? ¿Ustedes tienen algún background relacionado con performance fuera de la música?
Hemos estado tocando juntos desde hace un tiempo, tocando las mismas canciones desde 2012, que ha ayudado a desarrollarnos como una banda, sobre todo tocar en vivo. Nos gusta pensar que tenemos un poco de un ambiente punky cuando tocamos en vivo, nos gusta tocar fuerte y rápido.
El único background que hemos tenido es tocar en vivo. Todos hemos tocado en diferentes bandas en México antes de Rey Pila.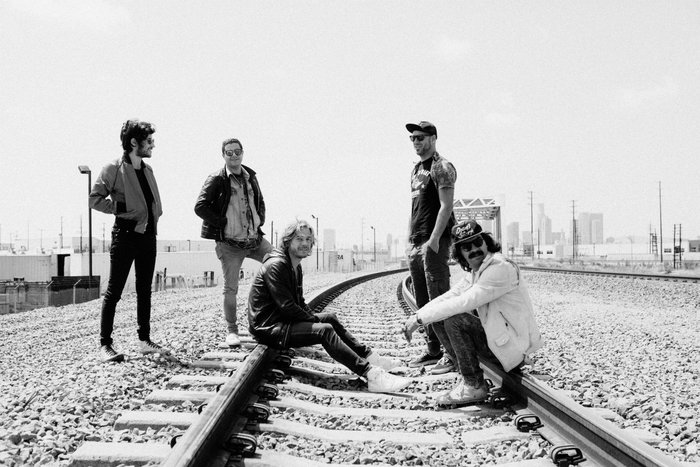 Having had a personal input on the album, 'Rey Pila', Diego, as a member co-producing. Did that effect the way you worked on 'the future sugar' which does not have a member producing? Were you able to decipher  your music emotionally and spiritually differently?
I've always like to be involved in the production of the songs, I think it's a very important part of this band. I  like to work on the sound and vibe of the albums I'm a part of. I'm really grateful to have had the opportunity to co-produce both Rey Pila albums.
I don't plan that much when it comes when working on the songs, it's definitely more organic and natural process. I felt a lot more mature when working on " The Future Sugar". The most important factor in all this change from album one to two was having Andrés and Rodrigo working on the songs, that made things go from good to great!
Después de haber tenido un input personal en el álbum, 'Rey Pila', como miembro co-productor, afectó eso  la manera en que trabajaste en «Future Sugar», álbum en el cual no eres productor? ¿Has podido descifrar tu música emocional y espiritualmente de manera diferente?
Siempre me ha gusta estar involucrado en la producción de las canciones, creo que es una parte muy importante de esta banda. Me gusta trabajar en el sonido y el ambiente de los álbumes de los que soy parte. Estoy muy agradecido de haber tenido la oportunidad de co-producir dos álbumes Rey Pila.
No pienso mucho en lo que respecta al trabajar en las canciones, es sin duda el proceso más orgánico y natural. Me sentí mucho más maduro trabajando en «The Future Sugar». El factor más importante en todo este cambio del álbum primero al segundo era tener a Andrés y a Rodrigo trabajando en las canciones, que hicieron que las cosas fueran de buenas a excelente!
How were the methods used to produce the album 'Rey Pila' (Paul Mahajan, Diego Solórzano ) different to 'The future sugar album? and indeed, on 'the future sugar' itself as there were three different producers. How were the methods Chris (Coady) brought to the fore,  compared to how you worked alongside Julian and Shawn ?
When I worked with Paul my life was very different.I was struggling to get Los Dynamite my previous band out of my head so I tried to make an album that was completely different to what I had done in the past. Paul is a great guy but I think I wasn't in a good place to make the music I wanted to make.
With Coady it was another story, I made my peace with the past and I let myself go.. We all have similar tastes in music as Chris so everything worked perfectly. He is a genius at sculpting sounds and making things sound great!
Julian and Shawn both have a very clear image of how music should sound. Julian has an enormous talent when it comes to songwriting, he has the capacity to step back from each song and see it from many different angles and that allows him to see the big picture that takes a lot of talent. Shawn is a sound superhero!! He has the special touch.
¿Cómo fueron los métodos utilizados para producir el álbum «Rey Pila '(Paul Mahajan, Diego Solórzano) diferentes a los usados en «The Future Sugar «? y de hecho, en 'The Future Sugar' en sí, ya que había tres productores diferentes. ¿Cómo fueron los métodos que Chris (Coady) trajo a la palestra, en comparación con lo que trabajó junto a Julián y Shawn?
Cuando trabajé con Paul mi vida fue muy diferente. Estaba luchando para sacarme Los Dynamite mi banda anterior de la cabeza, así que traté de hacer un álbum que era completamente diferente a lo que había hecho en el pasado. Paul es un gran tipo, pero creo que yo no estaba en un buen lugar para hacer la música que quería hacer.
Con Coady era otra historia, hice las paces con el pasado y me dejo llevar .. Todos tenemos gustos similares en la música con Chris así que todo funcionó a la perfección. Él es un genio en esculpir sonidos y hacer que las cosas suenen muy bien!
Julian y Shawn ambos tienen una imagen muy clara de cómo la música debe sonar. Julian tiene un enorme talento a la hora de escribir canciones, él tiene la capacidad de dar un paso atrás de cada canción y verlo desde diferentes ángulos, lo que le permite ver el panorama general, tiene mucho talento. Shawn es un superhéroe del sonido !! Él tiene el toque especial.
Your latest album is titled, 'The future sugar.' Is there any significance behind the title? It is aptly named suitable to the very futuristic melodies and, indeed the modern world is yearning for a future with a rock and roll band.
The album tittle came from a line in the movie " Wild At Heart". We love movies and we are big fans of David Lynch. The whole album has a bunch movie references.
El último disco se titula «The Future Sugar '¿Hay algún significado detrás del título? Lleva el nombre adecuado para melodías futuristas y, de hecho, el mundo moderno anhela un futuro con una banda de rock and roll.
El tìtulo del álbum proviene  de una línea en la película «Wild At Heart». Nos encantan las películas y somos grandes fans de David Lynch. Todo el álbum tiene un montón de películas referencias.
What inspires you to write songs and what methods do you use to catalyse a song to grow from the early stages?
I really have no idea where the inspiration comes from.. I think that sometimes I have the privilege to get hit by this lighting that helps me write songs. Its a very painful process, a lot of waiting ,a lot of trial and error.
For me there are no methods, the only "rule" is to not have a "rule". I like to think that you develop a relationship with the songs and  in the process you become very familiar with them and that allows you to take control.
¿Qué te inspira a escribir canciones y qué métodos  utilizas para catalizar una canción para que crezca a partir de las primeras etapas?
Realmente no tengo idea de dónde viene la inspiración .. Creo que a veces tengo el privilegio de ser golpeado por este tipo de iluminación que me ayuda a escribir canciones. Es un proceso muy doloroso, un montón de espera, una gran cantidad de ensayo y error.
Para mí no hay métodos, la única «regla» es no tener una «regla». Me gusta pensar que uno desarrolla una relación con las canciones y en el proceso te familiarizas con ellas y eso te permite tomar el control.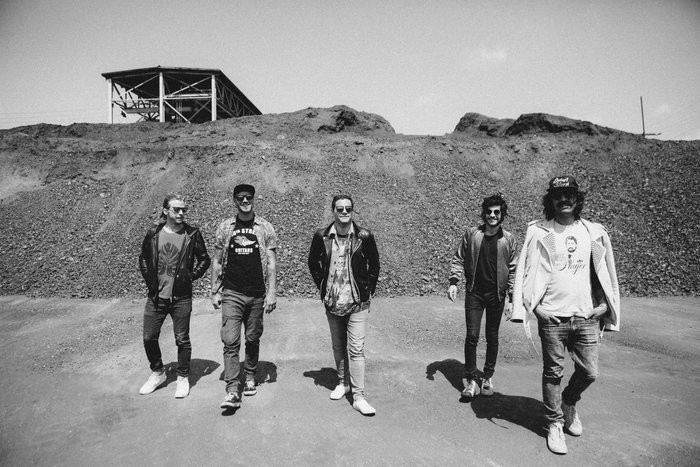 I am a huge fan of the 'Alexander ' video and I am hoping you could explain the idea behind the concept and whom was behind it. 
We always had the idea to make "Alexander" a video that was more in the line of a short film than an actual music video. 
Inspiration came from late 70's italian horror movies such as "Tenebre" and  "City Of The Living Dead" .We  talked to Sammy Rawall the director about all this  he came up with the treatment that involved a lady  reading cards to people in a very scary and dark atmosphere.
Soy un gran fan de vídeo del 'Alexander' ; espero que puedas explicar la idea del concepto y quien estaba detrás de él. 
Siempre tuvimos la idea de hacer «Alexander», un vídeo que estaba más en la línea de un cortometraje que un video musical real.
La inspiración vino de las películas italianas de terror  de finales de los 70, como «Tenebre» y «City Of The Living Dead» . Hablamos con Sammy Rawall, el director de todo esto, y se le ocurrió el tratamiento que involucró una  señora que leía cartas a la gente en un ambiente  muy atemorizante y oscuro.
You have written songs in both Spanish and English, and as your native mother tongue is Spanish, I am astonished that you can write such evoking  lyrics, such as the poetry of the song, 'Blast' locked around a thrilling beat and melody. Is it easier to write a song rock and roll song in Spanish or English?
I love to read in spanish , I think some of the most important literary works where written in spanish but I feel more confortable writing in english, it's a language that I really like for writing songs.
 Has escrito canciones en español e Inglés, y como tu lengua nativa es el español, estoy sorprendido de que  puedas escribir esas letras tan evocativas, como la poesía de la canción, 'Blast' encerrada en torno a un ritmo y melodía emocionantes. ¿Es más fácil escribir una canción de rock  en español o en Inglés?
Me encanta leer en español, creo que algunas de las obras literarias más importantes fueron escritas en español, pero me siento más cómodo al escribir en Inglés, es un lenguaje que me gusta mucho para escribir canciones.
Whom are your influences within your song writing? Your work with Los Dynamite to right now, is such a leap of maturity and feel,  I am eager to see how complex and paradox your inspirations could be.
Mmm… hard to say because things are kind of abstract for me when it comes to lyrics. I like to write phrases that evoke images and emotions more than an actual "beginning and end" story, a collage of words if you will.
I like to read a lot of different stuff,  a book  about Martin Scorsese , a novel by Kurt Vonnegut, a history book about the cold war etc.. 
¿Quiénes son sus influencias al momento de escribir canciones? Tu trabajo desde Los Dynamite a  este momento, es un salto de madurez y sentimiento, estoy ansioso por ver lo complejo y paradójico que sus inspiraciones podrían ser.
Mmm … es difícil de decir porque las cosas son  abstractas para mí cuando se trata de letras. Me gusta escribir frases que evocan imágenes y emociones más que un «principio y fin» historia real, un collage de palabras si se quiere.
Me gusta leer un montón de cosas diferentes, un libro acerca de Martin Scorsese, una novela de Kurt Vonnegut, un libro de historia sobre la guerra fría, etc ..
What aspects could you compare being a musician in Mexico City to being in New York City ?
Mexico and NYC are similar cities, they both have a lot of people in them, a lot of creativity and excitement.  We feel inspired by both cites equally. Music and art in general are very universal, no matter what language or town you live in the emotions that music provokes will be the same, different perspectives of course but the same.
¿Qué aspectos se puede comparar de ser un músico en la Ciudad de México a ser uno de Nueva York?
México y Nueva York son ciudades similares, los dos tienen una gran cantidad de personas en ellos, mucha creatividad y entusiasmo. Nos sentimos inspirados por ambas ciudades por igual. La música y el arte en general son muy universales, sin importar el idioma o municipio donde vives; las emociones que provoca la música serán los mismas, diferentes puntos de vista, por supuesto, pero las mismas.
What is it like having a boss like Julian Casablancas?. 
He has been a key player in this band! He has taught us so much things that are hard to put in a list. He is without a doubt one of the most important characters in music.
Working with him is a pleasure and an honour!!
¿Qué se siente tener un jefe como Julian Casablancas ?
Ha sido un jugador clave en esta banda! Él nos ha enseñado tantas cosas que son difíciles de poner en una lista. Él es sin duda uno de los personajes más importantes de la música.
Trabajar con él es un placer y un honor !!
Finally, Will there be arrangements for an upcoming South American tour? 
Not at the moment but it is definitely at the top of our list, we've heard so many great things from bands that have played there. Somebody told me that Buenos Aires is the last real rock & roll town in the world.
Por último, ¿Habrá arreglos para una próxima gira Sudamericana?
No por el momento, pero está definitivamente en la cima de nuestra lista, hemos oído tantas cosas maravillosas de las bandas que han tocado  allí. Alguien me dijo que Buenos Aires es la última ciudad real de rock & roll en el mundo.
Interview: Nicholas Ellis
Edition: Dana Rex
CONTACT

Últimas entradas de Nicolas Ellis
(ver todo)