LEO ADEF!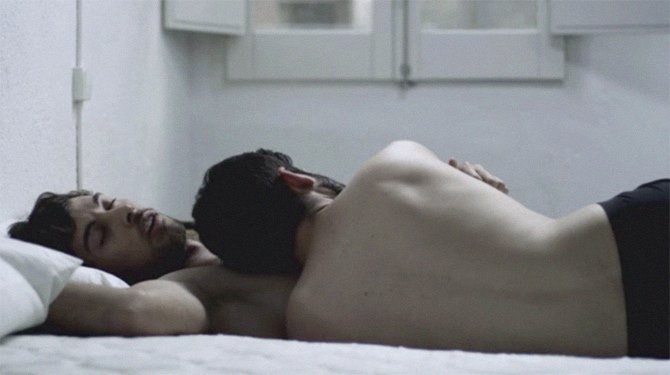 INTIMATE YOUTH!
Leo Adef is an audiovisual producer and Argentine photographer of 24 years who is living about two years ago in Barcelona.
He loves to travel and has been fortunate enough to do, tourist tours usually finding local guys for recording or photographing. He loves to spend days with anonymous guys which he does not know and usually has found on the internet to portray. He usually thinks a lot about adolescence, intimacy, sex and masculinity.
His work is strictly minimalist and detailed, always taking care of every detail to perfection, leaving nothing to chance. Pale skin, close-ups and sincerity are some things that can be seen in his interesting short film called Manifesto.
Leo Adef es realizador audiovisual y fotógrafo argentino de 24 años que se encuentra viviendo hace 2 años en Barcelona.
Le encanta viajar y ha tenido la suerte de hacerlo bastante, sus tours turísticos suelen ser buscar chicos
 locales para grabarlos o fotografiarlos. Le interesa mucho pasar días enteros con chicos anónimos que no conozco y generalmente encuentra en internet para retratarlos. Suele pensar mucho en la adolescencia, la intimidad, el sexo y la masculinidad.
Su trabajo es estrictamente detallista y a su vez minimalista, siempre cuidando cada detalle a la perfección, sin dejar nada librado al azar. Pieles pálidas, planos detalle y sinceridad son algunas de las cosas que se pueden apreciar en su interesante corto llamado Manifiesto.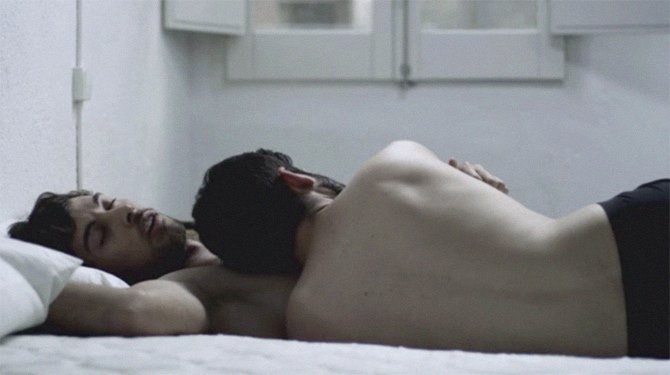 Your images are very inspiring, have a very particular aesthetic, do you remember how was your first photoshoot? Any anecdote that you can tell us?
Photos and videos I ever did. I remember that at age 12 and was reinforced in my room from an old TV, a VHS player, a stereo and a mini DV camera was in my house an attempt to edit bay and there began to manipulate the first images recorded.
I grew up in photos and videos capturing moments and characters of my family, my neighborhood, my friends, but when entering adolescence very slowly I started looking for something more personal and intimate.
I remember the first time I told a stranger make some pictures boy. I was a teenager, experimentation and discovery. Him out of a chat in the old time of MSN. We agreed to take some pictures of him naked in his room. Spend the whole day in his room making pictures, watching her things, listening to what they tell me. Experience blew my mind. It filled me with ideas, fantasies and found him a new meaning and a new utility to what had been doing.
Tus imágenes son muy inspiradoras, tienen una estética muy particular, ¿recordas cómo fue tu primer sesión de fotos? ¿Qué anécdota nos podes contar?
Fotos y videos hice siempre. Me acuerdo que a los 12 años ya tenía armado en mi cuarto entre una vieja TV, un reproductor de VHS, un equipo de música y una cámara mini DV que había en mi casa un intento de isla de edición y ahí empecé a manipular las primeras imágenes que grababa.
Crecí capturando en fotos y videos momentos y personajes de mi familia, mi barrio, mis amigos, pero cuando entre a la adolescencia muy de a poco empecé a buscar algo más personal y más íntimo.
Me acuerdo de la primera vez que le dije a un chico desconocido de hacerle unas fotos. Estaba en plena adolescencia, experimentación y descubrimiento. Lo saque de un chat, en la vieja época del MSN. Quedamos para hacer unas fotos de él desnudo en su cuarto. Pase todo ese día en su habitación haciéndole fotos, viendo sus cosas, escuchando lo que me contaba. La experiencia me voló la cabeza. Me llenó de ideas, de fantasías y le encontré un nuevo significado y una nueva utilidad a lo que venia haciendo.
Intimacy, teens and sex are recurring themes in your work. How did you become interested in it? How do you see youth nowadays?
I think I became interested in it in my own adolescence as I discovered everything. Those years were spent in a very intimate way, it was a process much introspection and search. Investigating a lot inside and outside of myself. Knew people and got into places that never knew that existed and so I discovered who I was and started making decisions about who I wanted to be. Sexuality obviously had much to do at that time and it was another thing to experience and discover. So from my room, I realized that there were thousands of guys like me and discovered that my camera could make similar or very different teens. Today, we already spent a few years of this, I still appeals to do so. Sometimes it's a more aesthetic or laden fantasies and more deep or intellectual experience, I like also wandering among these concepts.
La intimidad, los adolescentes y el sexo son temas recurrentes en tu trabajo. ¿Cómo comenzaste a interesarte en ello? ¿Cómo ves la juventud actualmente?
Creo que empecé a interesarme en ello en mi propia adolescencia a medida que iba descubriendo todo. Esos años los viví de una manera muy íntima, fue un proceso de mucha introspección y búsqueda. Investigue mucho dentro de mí y también fuera. CONOCÍ GENTE
 y me metí en sitios que ni sabía que existían y así fui descubriendo quien era y tomando decisiones sobre quien quería ser. La sexualidad, obviamente, tuvo mucho que ver en esa época y fue otra cosa a experimentar y descubrir. Así, desde mi cuarto, me di cuenta que había miles de chicos como yo y descubrí que con mi cámara podía conocer otras adolescencias similares o muy diferentes. Hoy en día, que ya pasaron algunos años de esto, me sigue interesando hacerlo. A veces es una experiencia más estética o cargada de fantasías y otras más profunda o intelectual, me gusta también deambular entre estos conceptos.
How do you say have that connection between the boy to shoot with you spend a whole day? How do you choose your models, situations and locations where they will be photographed?
The connection is not always the same, sometimes more and sometimes less. Sometimes I spend whole days but sometimes it's just a bit. Overall I enjoy working more with guys who are not models or actors. I like to meet guys online and write. Often end up monopolizing. Luckily we are in a time when everyone wants to have pictures and that gives me many opportunities to do what I like. Ideally I like that I take photos at their places, their homes, their neighborhoods or where they usually spend time with friends. That makes me discover great places and learn much more from the world of these guys. This gets better when I have the chance to travel. For example a few months ago I was in Amsterdam and met several guys that I ended up photographing in amazing places that I think I would have never known by myself.
¿Cómo es aquella conexión que decís tener entre el chico a fotografiar con el que pasas un día entero? ¿Cómo elegís a tus modelos, las situaciones y locaciones donde van a ser fotografiados?
La conexión no siempre es la misma, a veces hay más y otras menos. A veces paso días enteros pero otras veces es solo un rato. En general disfruto de trabajar más con chicos que no son ni modelos ni actores. Me gusta encontrar chicos en internet y escribirles. Muchas veces se terminan copando. Por suerte estamos en un momento en que todo el mundo quiere tener fotos y eso me da muchas oportunidades para hacer lo que me gusta. Idealmente me gusta que me lleven a sus sitios, a sus casas, a sus barrios o a donde suelen pasar tiempo con sus amigos. Eso me hace descubrir lugares geniales y conocer mucho más del mundo de estos chicos. Cuando mejor sale esto es cuando viajo. Por ejemplo hace unos meses estuve en Amsterdam y conocí varios chicos a los que termine fotografiando en lugares increíbles que creo que jamás hubiera conocido por mi mismo.
In several of your photos there is a color that stands out above the rest, something I find really interesting and personally I love it! How is that search … of colour, details, lines, etc.?
I work in a super intuitive way and I'll do the photos almost in documentary way. When shooting the truth is I'm not very aware of this but I get carried away looking at the boys and spaces offering me where to find what I find interesting and attractive.
En varias de tus fotografías hay un color que sobresale por encima del resto, algo que me parece super interesante y personalmente me encanta! ¿Cómo es aquella búsqueda… del color, los detalles, las líneas, etc.?
Trabajo de una forma súper intuitiva y voy a hacer las fotos casi de una manera documental. A la hora de disparar la verdad es que no estoy muy consciente de todo esto sino que me dejo llevar buscando en los chicos y los espacios que me proponen dónde encuentro lo que me parece interesante y estético.
 Why did you choose to photograph only boys?
Right now because I find much more interesting to explore. There's a whole world around masculinity not yet exhausted and would like to investigate further on. It is also true that girls would not be the same attraction to sit in front of the guys that I photograph.
¿Por qué elegís fotografiar solo chicos?
Ahora mismo porque me resultan mucho más interesantes por explorar. Hay todo un mundo alrededor de la masculinidad que aún no agote y me gustaría seguir investigando. También es verdad que con chicas no sería la misma atracción que siento frente a los chicos que fotografío.
After watching «Manifesto» I wonder … what's left to prove? What do you think we need to try this world?
I think everything. I chose to «Manifesto» tailor Mario Benedetti's poem «What's left to youth?» Because I think it speaks precisely all that remains for us to try. Facing the world think we have what we have is to try and question everything. Never stop trying new things. To me that is to be young and not become, as he says, in old premature.
Luego de ver «Manifiesto» pregunto… ¿qué queda por probar? ¿qué crees que nos falta probar en este mundo? 
Creo que todo. Elegí para "Manifesto" adaptar el poema de Mario Benedetti "Que les queda a los jóvenes?" porque creo que habla justamente de todo lo que nos queda por probar. Frente al mundo que nos presentan creo que lo que nos toca es probar y cuestionarnos todo. Nunca dejar de probar cosas nuevas. Para mí de eso se trata ser joven y no convertirnos, como él dice, en viejos prematuros.
What are you currently working on?
As I continue taking pictures, I'm working on a fairly new audiovisual project that will bring many directors from around the world. Will gather many visions and different sensitivities on privacy and adolescence on a different platform. We start shooting next month and hope to have it ready soon.
¿En qué estás trabajando actualmente?
Mientras sigo haciendo fotos, estoy trabajando en un proyecto audiovisual bastante novedoso que va a reunir a muchos directores de diferentes partes del mundo. Juntaremos muchas visiones y sensibilidades distintas sobre la intimidad y la adolescencia en una plataforma diferente. Empezaremos a rodar el próximo mes y esperamos pronto poder tenerlo listo.
«Manifesto»
A VIDEO BY LEO ADEF
VOICE: JEROEN KERKHOF
CONTACT:
http://leoadef.com
http://instagram.com/m.cm.xc
http://vimeo.com/leoadef
http://www.facebook.com/MCMXC.club