REAGAN CATS!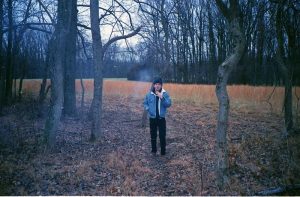 I first laid eyes upon the curious, 'Reagan Cats' comprising of, Gabe, Garrett, Matt and Grant during my supersized adventure of the United States in their hometown of Baltimore, Maryland at the musical mecca, Metro Gallery supporting the glorious, Grandchildren.
'We try not to take things too seriously. We're all pretty chill guys except for Gabe'
Baltimore is a living artefact of the arts holding a heck of a heritage often overlooked by contemporary, rival cities, such as New York as an epicentre for cool creative minds. You can include in that list the intense 'Future Islands',  local hero and Iconic director John Waters; the pioneering Divine and more than just the city where Edgar Allen Poe mysteriously died. It was in Baltimore that Poe launched a literary career after winning a contest sponsored in 1833 by the Baltimore Saturday Visiter for the best short story. The cats are packed with enough sparkling creative substance to leave similar creative craters upon the world and keep the beacon of Baltimore's creative spirituality burning.
'It is not a city where people really try to force you to love it like some other places I've been'. 
The Regan Cats with their goofball antics, Python personalities create infectious grooves of a melodic, raw, Hamburg Beatles sensibility, which immediately infects the senses. What intrigued me also was how they could take the influence of past 'British' bands,  per se and churn out a far more authentic trip than the majority of modern British bands. Thereon, I instantly marked them down as part of my road trip sound track.
Their charismatic songs and nature recently propelled found them on the 'silver screen' starring in the low budget movie, 'Leadbetter' a dark comedy about romance and millennial beatniks, set amongst the Baltimore art scene, by Tyler Peterson.
'It comes pretty naturally there isn't a whole lot of thought in terms of writing for a specific attribute'
Although the band express a desire for listeners to 'have a good time and enjoy themselves' the cats meticulously and conscientiously create music which is above all, serious art. It is distinctly apparent that they keep their eyes open and obviously not distracted from all the cool and real things out there in the world.
'When you're around people that are working hard and making cool stuff it tends to rub off and get you motivated'
After releasing two EP's, running man (2015) and sand man (2016), the band are currently 'working tirelessly on producing something solid' in the form of their first full-length release later this fall. Looking forward the band are playing mostly 'local' shows with plans to do a couple more videos. 'Make love.  Spread love. Just trying keep things rolling.'
I spoke to the band after the Metro show and a few weeks later following an interview video to talk about about their music, ideas, inspirations and the plans for 2017.
---
📷 Jake Armstrong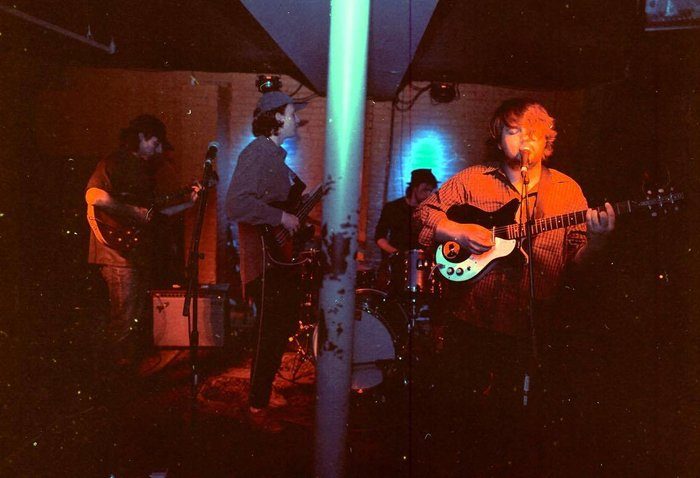 How did the band get started?
Grant and Matt met in first grade at school. Then we met Gabe later on when we were in high school. We all shared an interest in music and we just started playing together whenever we hung out. We would write songs together and just had fun messing around at the beginning.  There was a lot of just sitting in Matt's basement, each of us with a guitar just all strumming and singing random things.
Looking back, it just felt like a pretty natural start. It wasn't really thought of as a band that much until a bit later on when we started to record some of the songs and got into playing them with drums and a full set up and all that. So that first period where it all started to come together was great.
Garrett's the most recent addition to the lineup. He met Matt through work a little while back and began drumming for us at the beginning of this year. So we're really happy with how things have progressed lately.
What inspired the cool band name?
«It was the nickname of an old friend of ours that we used to make a bit of music with in the really early days. he opened us up to some new ideas and new music. We've since lost touch but we just liked the way the name sounded and really just needed a name to play under. There wasn't a tonne of thought behind it, it just kinda happened and then we went with it»
📷 Andrew Brown
Who films your videos and YouTube docs and anymore upcoming?
They were made by our good pal Jake Armstrong. He's been doing a lot of really amazing animations and little films recently, so it was great to team up with him on that stuff. His photos are awesome as well, we really dig his work. We're hoping to begin another video within the next couple months or so for some of the new stuff we're putting out.
Baltimore blew my mind so how does it inspire the band?
Matt: I love it, but it's kind of a dreary city in my opinion. I have a desire to eventually check out other areas. But that definitely has an influence on how we play.
Gabe: I think Baltimore is a cool place. Whenever I go to other cities I do miss Baltimore. Its not a city where people really try to force you to love it like some other places I've been.
Grant: I like being in Baltimore, I think there are a lot of cool things going on. There are some really inspiring people and bands in the area that are creating sweet stuff at the moment. I think we draw a good bit from our experience in Baltimore, but I wouldn't say that it's at the very forefront of our inspiration.
If you had one song left to play as a band which would you choose?
That's a tough one. Probably the one who tells you. That's our oldest, most played song I think. We've changed it a bunch of times, but at the core it's always been one that's lasted over time.
📷 Andrew brown
Typical week for you guys? 
We like to spend time outside, there are a lot of cool woods/park areas near where we live. So a lot of hanging out there/exploring all around.  Lots of watching other shows around town.  Lots of jamming. Watching a lot of the show Cops.
What are the bands inspirations?
We try to be stress free, so trying to achieve that I guess. Heavily inspired by other music/musicians, art and film. Philosophy and nature are big ones too. Just the stuff that's around us.  We're always showing each other new songs or videos, or bouncing ideas off of each other so there is constantly a merging of our individual styles and preferences when it comes to coming up with music.
How would you describe your recording process and how did your lead guitarist also become your producer?
There hasn't really been a regular formula. We've done a mix of things in the past.  We're starting to do more live recordings, but still trying to find what works best for us. Gabe did a lot of audio engineering in school, so he kinda naturally just began to record stuff for us. Lately we've just been going over to his house early in the morning and doing a lot of tracks day by day, and that's been working quite well. Some songs come super quickly, and then some involve a bit more deliberation over the direction we want to take it.
Does he just produce rather than ultimately dictate your sound?
Yeah he handles like a lot of the actual recording of tracks and the mic'ing and setting up and all that but when it comes to the actual sound me, him and matt have been just meeting in his room and going through it and discussing what we want. Sometimes he'll try shit out and send it over to me and matt but at the end of the day we're most productive when we're all in the room together discussing what needs to be more prominent and what needs to be toned down a bit.
Overall, I would say Gabe has the most technical background in the production stuff but me and matt will chime in with different things here and there ya know, so it's a pretty well rounded process of coming to final decisions.
That being said, Matt is also great at recording and producing too and he's starting to record more stuff as well like he did back in the early days so everyone's kinda plugging away at it and we're just going with what we think sounds best. it's all a pretty varied process, trying to find the right formula.
📷 Grant McAvan
How do you feel about social media?
It has pros and cons. It can be super useful in terms of sharing music and getting in touch with people. But at the same time it sucks all the patience out of life. Everyone wants things instantly now. People freak out if their MacBooks or phones freeze for ten seconds. It can be a fun outlet for sharing more about the band and reaching people but it comes with responsibility in a way. Just got to avoid having it distract you from all the cool and real things out there in the world.
What are the bands 2017 plans?
Record a full-length album and really produce something solid. Maybe do a couple more videos. Make love.  Spread love. Probably some touring. Just trying keep things rolling.
How would you advise our readers to spend a day in Baltimore?
Baltimore has a tonne to offer both inside and outside of the city. The national aquarium is quite a cool spot. Check out museums too like the Visionary Arts Museum, the Walters Art Gallery, and Baltimore Museum of Art. Show-wise there are a lot of interesting, intimate venues where you can hear a variety of different types of music and performances.
As we said before there are some great outdoor spots just outside the city, like the Patapsco State Park and different nature walks and things of that sort that you could wander for hours.
How is the band writing at the minute and when can we expect new material?
There are a tonne of songs floating around at the minute. A lot of the stuff is written relatively independently at the moment and then it's brought to the group and we all kinda add our own little spin on each part. Usually whoever writes it takes the lead on it. Sometimes someone will have a fully finished song, so it's more about just teaching the others how to play it, and then sometimes its not as complete and we all work on finishing it together.
We've finished up the first two songs off the album which we're gonna be releasing pretty soon hopefully as singles. And the rest of the album should be done sometime this summer.
🎥 Jake Armstrong
How would you sum up what your energy is about?
It's meant to be pretty easy to enjoy. We're all laid back; we try not to take things too seriously. We're all pretty chill guys except for Gabe. But yeah we just want people to have a good time and enjoy themselves.
How did you come up with the riff and lyrics to 'What's on her mind'?
Grant had the chords for a bit, and then matt came up with the lead. The words just kinda came out as we were jamming to it and playing it a bunch.
Do you write songs to suit the singers voice or do you jam and just see what comes out?
It comes pretty naturally there isn't a whole lot of thought in terms of writing for a specific attribute. Usually the writer of the song ends up singing it so it just comes out natural and then we practice it and see where it ends up.
What is the first thing you do when you wake up and, like when are you at your most creative?
Gabe: Right before I go to bed is usually when I write all my lyrics, when I'm half asleep is when I'm most creative.
Matt: It just comes and goes for me. First thing I do when I wake up is have some coffee.
Grant: Different times, like Matt said. Traveling around and seeing/experiencing new stuff always tends to spark some creativity. So does being surrounded by inspiring people. When you're around people that are working hard and making cool stuff it tends to rub off and get you motivated.
🎥 Jake Armstrong
CONTACT
https://www.facebook.com/ReaganCats/
https://reagancats.bandcamp.com

Últimas entradas de Nicolas Ellis
(ver todo)