THE TREND REINVENTED!
SARA RIOS AND PEDRO'S PROJECT INSPIRED BY THE OCEAN!
EL PROYECTO DE SARA RIOS Y PEDRO,  INSPIRADO EN EL OCÉANO!
The

Trend

Reinvented

is composed by Sara and Pedro. 
 Sara Rios was born in Moledo, in northern Portugal. She grew there next to the sea. The sea is her inspiration. Sara 
love imperfections in photography and that's why she absolutely loves analog photography. 
//
The Trend Reinvented está compuesto por Sara y Pedro.
Sara Ríos nació en Moledo, en el norte de Portugal. Creció allí al lado del mar. El mar es su inspiración. Ama las imperfecciones en la fotografía y es por eso que  le encanta la fotografía analógica.
First of all, introduce yourself. Also tell us about what «The

Trend

Reinvented

» is.
The

Trend

Reinvented

are two photographers (Sara and Pedro) from Portugal. We like nature and all art in general particularly of course, photography. We think it's the best way for us to express ourselves.
En primer lugar, por favor preséntese. También díganos  qué es «The Trend Reinvented».
Trend Reinvented son dos fotógrafos (Sara y Pedro) de Portugal. Nos gusta la naturaleza y todo el arte en general sobre todo, por supuesto, la fotografía. Creemos que es la mejor manera para nosotros para expresarnos.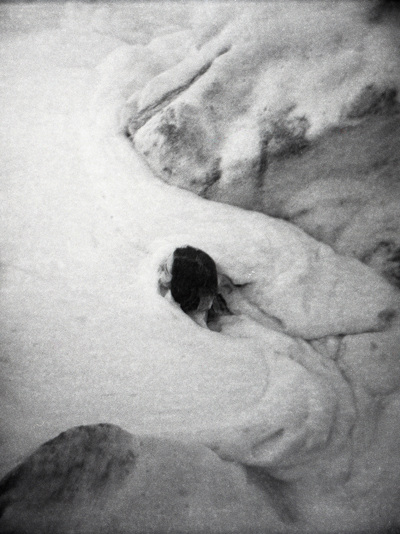 Whos is Pedro and how did you meet him?
Pedro is my boyfriend,
we try to be together on the challenges of each.
Photography has always been a passion for us, so it was only put it all together.
Quien es Pedro y cómo lo conociste?
Pedro es mi novio, tratamos de estar juntos en los desafíos de cada uno.
La fotografía siempre ha sido una pasión para nosotros, por lo que sólo fue juntarlo todo.
Tell us about any other project going on.
new projects are always on our mind. we will disclose soon…
Cuéntanos sobre otros proyectos en los que están trabajando.
Nuevos proyectos están siempre en nuestra mente. Daremos a conocer pronto …
How did you get related to the fashion industry?
We have been contacted to photograph mainly Portuguese designers collections and we have greatly enjoyed so we continue 
and always try to give our personal touch.
On our website you can see our recent work but as we said are essentially Portuguese designers but we want to open horizons.
¿Cómo te has relacionado con la industria de la moda?
Hemos sido contactados para fotografiar diseñadores principalmente colecciones portuguesas y hemos disfrutado mucho, así que seguimos y siempre tratamos de dar nuestro toque personal.
En nuestra página web se puede ver nuestro trabajo reciente, pero como hemos dicho es esencialmente diseñadores portugueses, aunque deseamos abrir horizontes.
 How do you see yourself 5 years from now?
We see ourselves happy for make what we'd love so much.
¿Cómo te ves dentro de 5 años?
Nos vemos felices por hacer lo que nos gustaría mucho.
What can you tell us about «Ocean»?
we are always in harmony with the sea..
Ocean is a new project for some years we catch some parts of the sea, and now we decided show some of them.
¿Qué nos puede decir acerca de «Ocean»?Estamos siempre en armonía con el mar ..
Ocean es un nuevo proyecto desde hace algunos años recogemos algunas partes del mar, y ahora hemos decidido mostrar algunos de ellos.
«The trend reinvented was created to reveal some of our secrets. Our tide is our state of spirit, all that we believe, mental floods and magic experiences! That will of making something more takes us, even on those boring days, to do productive work, a way that our path is photography and art in general, in a extractive and appreciative way too, on the most natural state.

Our thing is daily based spontaneity but we also don't discard premeditated madness, that we snap immediately. We have a diversed inspiration and you can understand it easily if you smell and listen to our clicks, influenced by the cool breeze of the sea & mountains in their home in Northern Portugal.»

«The Trend Reinvented fue creado para revelar algunos de nuestros secretos. Nuestro marea es nuestra estado de espíritu, todo lo que creemos, inundaciones mentales y experiencias mágicas! Esa voluntad de hacer algo más nos lleva, incluso en esos días aburridos, a hacer trabajo productivo, de manera que nuestro camino es la fotografía y el arte en general, de una manera extractiva y agradecida también, en el estado más natural.

Nuestra actividad se basa en espontaneidad diaria, pero tampoco descartamos la locura premeditada, que chasqueamos inmediatamente. Tenemos una inspiración ramificaba y usted puede entender fácilmente si huele y escucha nuestros clics, influenciados por la brisa fresca del mar y las montañas en su casa en el norte de Portugal «.

 
CONTACT
thetrendreinvented@gmail.com