ALVA BERNADINE!
BERNADINISM!
Alva Bernadine was born in Grenada, West Indies and moved to Britain at the age of 6 to London. At the age of 10 bought a toy camera that took blurred pictures, some of which his mother still has in the family album.
He became seriously interested in photography at the age of 21. His first pictures were of London tourist spots and the next year started practicing his present style. Alva is self-taught and have never been an assistant.
How long have you been working as a photographer and why have you decided taking up photography in the first place?
I have been a photographer for over 30 years. I bought my first camera at the age of 10. It was plastic and took blurred pictures. I also bought a booklet that talked about shutter speeds, apertures and depth of field. My camera only had one shutter speed and a cloudy and sunny symbol.
Have you tried a variety of styles and techniques before reaching the results you have now?
The first year I became serious about photography, I looked about and decided I wanted to do something different than the photos I saw mainly in amateur magazines. I saw the work of people such as Cartier Bresson, Robert Doisneau and other great reportage photographers and thought I could not compete with that, besides hundreds of thousands had already gone down that path and I would be competing with them also. I had to find a less trodden path.
I started first to take pictures of tourist spots in London using colour and Cokin filters. They made all sorts of colour filters and and others that created star bursts and prismatic effects. Later that summer I started distorting the emulsion of the film, warping it and creating bubbles and colour shifts.
I also came across the work of Rene Magritte in a book shop and thought I would like to do something like that. In the autumn I began to experiment surrealist still-llifes in a studio. The next spring I began to think up ideas for shooting outdoors using models.
On what criteria do you choose your models and colors for the set?
I like lots of colour because I feel that it helps draw the viewer into the image, and the way to obtain a colourful image is to put the colour before the lens in the first place. When I shot outdoors I would use colourful clothing and now I shoot indoors, it is colourful backgrounds.
Women volunteer to model for me through my website. They generally range from 18 to mid 30s. As long as they have a decent figure and a nice enough face I will consider them. I am not aiming for a super-beautiful look to my pictures. I guess most of my models are aged mid to late 20s.
Where do you get the inspiration to concieve your photo projects?
I get my inspiration from other photographs, film, television, books and things I might see on the street or on the tube. I sketch out ideas or write them down and when I am in need of an idea, it is these I turn to first. I have been asked this question so often that I made a video to answer it. https://vimeo.com/31676925.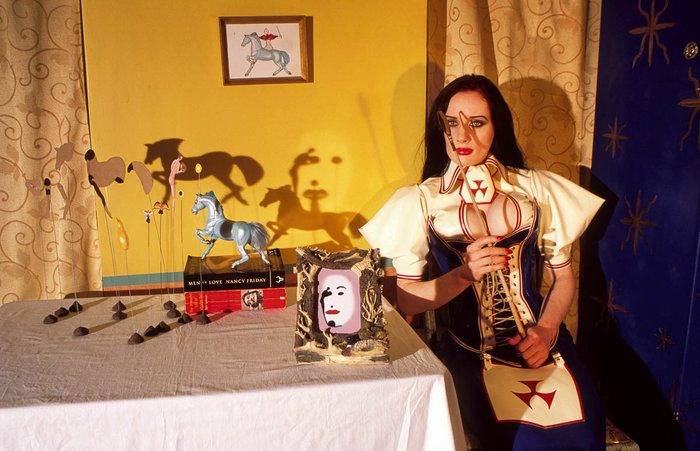 Do you set limits to your work?
I have a style and that in itself means that I have imposed limits on my work in the respect that I approach my work in a certain way – the techniques I use, the way I light, the feel of what is happening in the images. My aim is always to take the sort of picture I like to see the most. When it comes to explicitness in my pictures, there are no limits, except that they have to look like a Bernadinian photo. That is, they have to have all the elements that constitute my style and not just look like they could have come from a porno magazine.
Which artist do you look up to?
The first influences that appealed to me the most when I was a young man looking for direction and people to emulate, were Rene Magritte, Cheyco Leidmann and Guy Bourdin. Leidmann's work was very colourful and graphic in composition, featuring women in lycra in landscapes and cityscapes – very 80s. There was also something surreal or unusual happening in nearly every image. A little while later I came across four or five pictures of shoes by Guy Bourdin, in an old advertising annual. I sat down and sketched out some ideas in the spring and by the summer I started taking images in my present style.
I came across more of Bourdin's work when I stumbled upon him in French Vogue a year later. I followed him in that until he disappeared from it a couple of years later.
I became seriously interested in photography at the age of 21. My first pictures were of London tourist spots and the next year I started practicing my present style. I am self-taught and have never been an assistant.
I have worked mainly in the editorial field and I have photographed for numerous national magazines and have had many profiles of my work in countries such as France, Spain, Italy, USA, Australia, Germany and, of course, Great Britain. I was joint winner the Vogue/Sotheby's Cecil Beaton Award in 1987 for his series of shoe pictures entitled 'The Fetish' and in 1997 and '98 was nominated as Erotic Photographer of the Year in Britain and won in 2002 for my book, Bernadinism: How to Dominate Men and Subjugate Women, published by Stemmle Editions in 2001.
CONTACT

Últimas entradas de Elis Talis
(ver todo)